1950: Burns and Allen Make Their TV Debut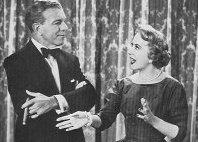 On this day in 1950, husband-and-wife radio stars George Burns and Gracie Allen made their television series debut with The George Burns and Gracie Allen Show. The CBS series, which positioned Burns as the straight man to Allen's comedic predicaments, was an immediate hit.
Bea Benaderet portrayed Gracie's friend and neighbor, Blanche Morton, who was often involved in Gracie's humorous predicaments. Hal March played Blanche's husband, Harry. (The role was recast several times during the show's eight-year run.) Rolfe Sedan played the mailman, Mr. Beasley. The Burns' son, Ronnie Burns, made regular appearances on the show. The couple's daughter, Sandra, was not as comfortable in front of the camera; she guest-starred on the show only a handful of times.
At the beginning, the show was performed before a live audience in New York. By its second season, they were filming episodes in Los Angeles, then showing them to a live audience to record an organic laugh track.
At the beginning of the show's eighth season, Allen announced her imminent retirement. The final episode aired September 22, 1958.