1951: DuMont Broadcasts TV's First NFL Championship Game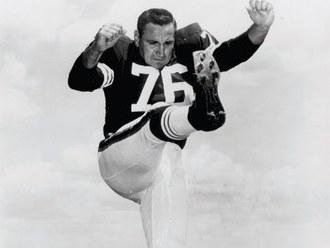 On this day in 1951, DuMont presented the first coast-to-coast broadcast of a National Football League championship game. The contest, which took place at Los Angeles Memorial coliseum, was between the Los Angeles Rams and Cleveland Browns.
During the game, Browns kicker Lou Groza (left) kicked an NFL championship record 52-yard field goal.
The final score? Rams 24, Browns 17.
In 1952, DuMont aired only games played by the New York Giants, but expanded to multiple-team season coverage in 1953, offering live, coast-to-coast Saturday night games. DuMont's NFL coverage ended in 1955.