1956: 'The Price is Right' Debuts on NBC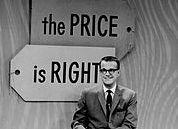 On this day in 1956, NBC debuted the game show, The Price is Right. Hosted by Bill Cullen, the series — which featured four contestants attempted to guess the retail price of an item without going over — was the precursor to the still-running version.
In 1963, the show moved to ABC, where it ran for two additional years. Both daytime and primetime versions of the game show were aired. Relatively untouched by the quiz show scandals of the 1950s, The Price is Right survived, and flourished, while many competing shows were pulled off the air.
The Price is Right returned to television in 1972, airing on CBS, with Bob Barker as host. Actor/comedian Drew Carey replaced Barker in 2007.