1957: Jack Paar Takes Over NBC's Late Night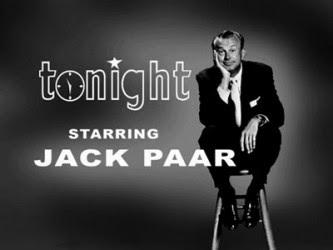 On this day in 1957, a comic named Jack Paar took over the NBC late-night program formerly known as Tonight (and presently known as The Tonight Show starring Jimmy Fallon).
Tonight launched in 1954 as a live, late-night variety/talk show with Steve Allen as host. When Allen landed his own weekly prime-time series in 1956, he cut back his Tonight hosting duties to three nights a week (with Ernie Kovacs stepping in as the show's host each Monday and Tuesday). In 1957, when Allen left the show altogether, NBC renamed the show to Tonight! America After Dark and radically changed the format to a news-oriented show not unlike a now-typical morning show. It lasted just six months.
The show's next incarnation became Tonight Starring Jack Paar (and later, The Jack Paar Show). The show reverted back to its earlier talk/variety format and featured comedic sketches and guest interviews. Paar's on-air announcer (for all but the first few weeks of the show) was future ABC newsman Hugh Downs.
When it first debuted, Paar's Tonight was broadcast live. During Paar's reign the show would switch to being videotaped earlier on the day of broadcast. in 1960, it was one of the first television shows to be videotaped in color.
When Paar left the show in 1962, it was helmed by a series of substitute hosts for a little over five months while NBC waited for its newly-appointed host's contract with the ABC game show Who Do You Trust? to run out. The young game show host's name? Johnny Carson.