1959: KTLA-TV Aired the First Franchised 'Bozo the Clown' Show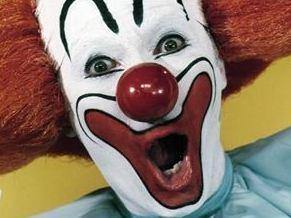 Until Ronald McDonald came along, the most famous clowns on TV — not counting politicians — were Clarabell from Howdy Doody and good old Bozo, a Capitol Records character "franchised" to local TV markets by entrepreneur Larry Harmon (left), with most stations providing their own hosts (the same trick was employed, beginning at about the same time in the fifties, by Romper Room).
It was on this day in 1959 that KTLA-TV in Los Angeles launched the first of those local Bozo the Clown shows, with Vance Colvig Jr., son of Pinto Colvig, who had supplied the voice of Bozo for Capitol Records (and, it's worth noting, for the Walt Disney character, Goofy).
The most famous Bozo, undoubtedly, was Washington D.C.'s Willard Scott, who took his clowning around to the Today show.
At one point in the sixties, there were approximately 250 local Bozos starring in children's TV shows around the world, and though the craze had peaked and flattened, the Bozo the Clown character certainly made his mark. No one insults anybody else, after all, by saying "You Ronald!" or "You Clarabell!"
—Excerpted (in part) from Dictionary of Teleliteracy: Television's 500 Biggest Hits, Misses and Events