1960: 'Route 66' Drove Onto CBS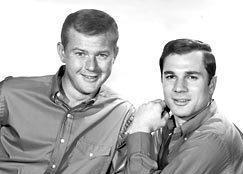 On this day in 1960, CBS introduced the ambitious series, Route 66, which was filmed in 40 different states, at locations along the fabled cross-country highway.
The series starred George Maharis and Martin Milner as Buz and Tod, two carefree guys wandering the U.S. in a Corvette convertible. Maharis fell ill and left the show partway through Season 3, Glenn Corbett, as Linc, became Tod's new traveling partner.