1961: Kennedy Holds First Live, Televised Presidential News Conference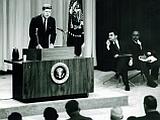 On this day in 1961, President John F. Kennedy presented the first live, televised presidential press conference, which allowed the American public to see, for the first time, the White House press corps in action and hear the President's responses to their questions.
Kennedy was well aware of the power of television and the importance of projecting a strong presidential image, thanks in part to his 1960 debate with Richard M. Nixon that, some believe, helped Kennedy win the presidential election.
Kennedy addressed a variety of topics, including upcoming negotiations for an atomic test ban, the government's decision to increase contributions toward famine relief in the Congo and the Soviet government's release of two American Air Force captains who had been held by Russian authorities for nearly six months.
A transcript of the press conference is available online, while a segment of the television footage can be viewed below: