1962: ABC Introduces its First Color Series, 'The Jetsons'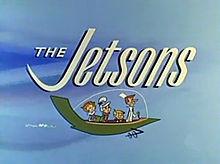 In 1962, viewers met George Jetson (and his family) when ABC launched the animated space-age series,
The Jetsons
.
The humble Hanna-Barbera cartoon was the first ABC show to be broadcast in color, even though most viewers were probably watching in black-and-white. In 1962, color television was still a pricey novelty, and many ABC affiliates had yet to install the color transmitters that would allow them to broadcast anything but black-and-white.
The series was set in 2062, and revolved around the Jetson family: George, an employee of Spacely Sprockets; Jane, his homemaker wife; teen daughter, Judy; young son, Elroy; and Astro, the family dog. Also seen frequently is George's boss, Cosmo G. Spacely. (The family's robot-maid, Rosey (later Rosie), made only two appearances in the 1962 series.)
George and Judy were voiced by George O'Hanlon, star of the Warner Bros. live-action Joe McDoakes film shorts and Penny Singleton, star of Columbia Pictures' comic strip-inspired Blondie films. Judy was voiced by Janet Waldo, who later portrayed Josie of Josie and the Pussycats. Daws Butler, who also gave voice to Yogi Bear, Quick Draw McGraw, and Huckleberry Hound, originated the role of Elroy, and animation legend Mel Blanc (Bugs Bunny, Daffy Duck, Porky Pig, Barney Rubble) was Mr. Spacely. Don Messick — perhaps best-known as the voice of Scooby Doo — portrayed Astro. Jean Vander Pyl, who was also the voice of Wilma Flintstone, was Rosey and Mrs. Sprocket.
The Jetsons was cancelled after just one 24-episode season. Hanna-Barbera later produced a second run of episodes which were rolled out in syndication from 1985 to 1987. In total, 75 episodes were made.