1963: 'Let's Make a Deal' Makes its Debut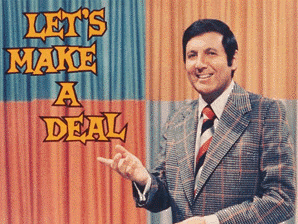 On this day in 1963, NBC introduced the game show, Let's Make a Deal. Hosted (and co-created) by Monty Hall, the show invited members of the audience to trade one prize for another, not knowing the value of the additional prize. Prizes could be extremely valuable, or be a "joke" prize of little value.
Audience members often dressed in crazy costumes to draw the attention of the host, who selected the contestants at random.
The original show ran on NBC until 1968, then moved to ABC where it ran until 1976. Additional versions of the show aired off and on throughout the years. The current CBS incarnation, hosted by Wayne Brady, launched in 2009.