1964: 'Jeopardy!' Makes its Debut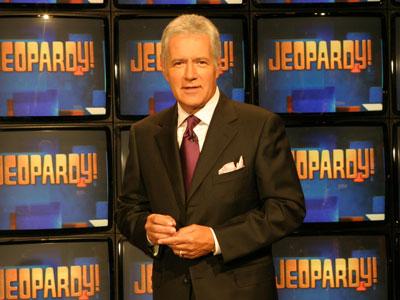 The category is "game shows for $ 100." The answer is "the smartest, best, most entertaining game show of all time." The question, of course, is "What is Jeopardy!?" No contest.
Just think of what this cerebral contest — which debuted today in 1964 — has given us over the years. There's Don Pardo, whose chores as announcer on Jeopardy! led directly to his similar duties on Saturday Night Live. There's the unforgettable "think music" played during the Final Jeopardy round — music written by Merv Griffin, who also created the series. There are those harsh buzzer sounds for wrong answers (a sound used by many other game shows as well, but driven by Jeopardy! into the common vernacular). And, of course, there are those twin towers of Jeopardy! hosts, Art Fleming (for the NBC years) and Alex Trebek (for the still-popular syndicated version).
I love the esoteric nature of the show, which is the only game show on television where contestants are expected to display expertise in such categories as "Those Darned Etruscans." Speaking of esoteric: It may or may not come as a surprise that Griffin concocted Jeopardy! in direct response to concerns over the quiz-show scandals (by giving the contestants the answers right up front, and making them guess the questions instead).
Similarly, it may be relatively common knowledge that NBC nearly passed on the Jeopardy! concept as too tough for TV, until an assistant programmer urged his boss to buy the show. But here's the surprising part: that assistant, in the standard Jeopardy! form of a question, can be identified by the phrase, "Who is Grant Tinker?"
It may have been Tinker's first major lesson that quality, intelligent TV could reap big big dividends — a lesson he would later apply to everything from The Mary Tyler Moore Show (the first sitcom from his MTM Productions) to St. Elsewhere and Cheers (shows he nurtured patiently once he became president of NBC).

—Excerpted from Dictionary of Teleliteracy: Television's 500 Biggest Hits, Misses and Events