1966: 'Ben Casey' Retires from ABC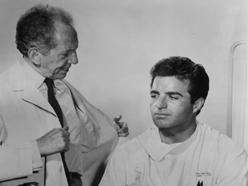 "Man… Woman… Birth… Death… Infinity." With those words, uttered by Sam Jaffe as the wise, grizzled Dr. Zorba, Ben Casey launched each week into its somber theme music — and into another drama exploring medical diseases, cures, ethics, and dilemmas.
Today, the name "Ben Casey," like those of Dr. Kildare and "Marcus Welby, M.D.," carries the connotation of the perfect, caring physician — the Perry Mason of doctors. However, Casey, as played by Vince Edwards, was a lot more ruggedly handsome than Robert Young's paternal Dr. Welby.
On this day in 1966, Ben Casey ended its six-season run on ABC. In 1988, twenty-two years after Ben Casey went off the air, a more paternal-looking Edwards starred in a telemovie called The Return of Ben Casey. By then, though, the image of the "perfect doctor" had long been pronounced dead by the fascinatingly flawed folks of St. Elsewhere.