1966: Holy Oleo!: 'Batman' Debuts on ABC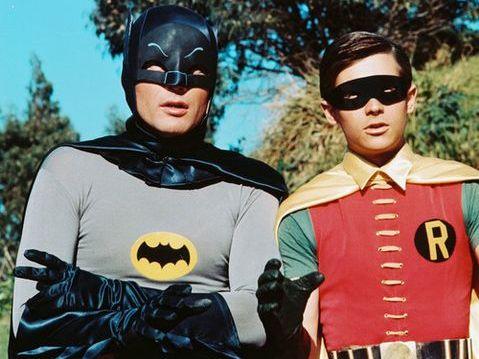 This strongly tongue-in-cheek ABC series initially was presented twice weekly, with cliffhangers between the Wednesday and Thursday night episodes ("Tune in tomorrow — Same Bat-time, same Bat-channel!"), and caught on almost immediately: Batman premiered on January 12, 1966, and ended the season a few months later with both the Wednesday and Thursday installments in the overall Top 10. The show's popularity as a sixties fad was brief, but the central character (who wore briefs) was much more durable and adaptable.
Cartoonist Bob Kane's Batman character first appeared in Detective Comics in 1939, and, like Superman, was a multimedia costumed hero in the forties; in addition to his comic-book exploits, the caped crusader was showcased in a Batman serial in 1943 and a Batman and Robin serial in 1949, and even showed up as a guest star on the Superman radio series. It was not until the TV series of the sixties, though, when the character was played as camp, that Batman notched his first Hollywood success.
Adam West's Batman, like Burt Ward's Robin, was hopelessly straight-laced and straight-faced, and the comic-book feel was accentuated by tilted camerawork (used whenever inside a villain's lair), by Robin's goofy, G-rated expletives (such as "Holy oleo!," "Holy red herring!," and my favorite, "Holy priceless collection of Etruscan snoods!"), and such action balloon words, superimposed during fistfights, as "Oooff!" "Thwapp!" and "Powie!"
Neil Hefti's sassy "Batman" theme didn't hurt, either: his version, as well as a cover version by The Marketts, made the Top 40 that first summer. Batman became such a popular sixties fad that to guest-star on it, or make a cameo appearance, was all the rage, and it's the villians who are freshest in memory a generation later: Burgess Meredith's squawky Penguin, Frank Gorshin's giggling, googly-eyed Riddler, Cesar Romero's white-faced Joker, and Julie Newmar's purrrfect Catwoman.
A bigger-budget 1966 summer movie version featuring all four of those flashy villians (with Lee Meriwether substituting for Newmar) was intended to predate the series premiere, but ended up following its first season because ABC had rushed the weekly Batman series onto the schedule in January. By the time the Batman film hit theaters in August, the TV series already had peaked in the ratings, and would never be popular again — but Batman himself would.
—Excerpted from Dictionary of Teleliteracy: Television's 500 Biggest Hits, Misses and Events