1966: 'Star Trek' Launches on NBC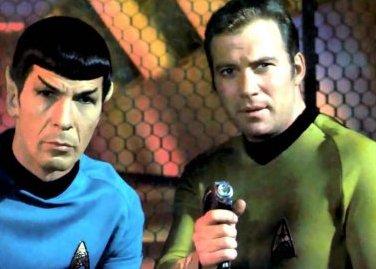 This day in 1966 marked the debut of Star Trek — later known as Star Trek: The Original Series to differentiate the show from its many TV and film spinoffs — on NBC.
The science fiction series, created by Gene Roddenberry and set in the 23rd century, followed the crew of the USS Enterprise on a mission to "explore strange new worlds, to seek out new life and new civilizations, to boldly go where no man has gone before." The cast included William Shatner as Captain James T. Kirk, Leonard Nimoy as first officer Spock, DeForest Kelley as medical officer Dr. Leonard 'Bones' McCoy. Additional cast members included James Doohan, Nichelle Nichols, George Takei, Walter Koenig, Grace Lee Whitney and Majel Barrett.
Star Trek's first season ratings weren't spectacular, but the show's desirable demographic (and a second-season letter-writing campaign secretly organized by Roddenberry) kept the show going for three seasons. The show was cancelled in June 1969.
Ironically, it was a unique syndication deal that allowed first season episodes to run during the show's third season that helped fuel the show's popularity. By 1972 the show was prospering, with legions of fans worldwide.