1967: 'The Carol Burnett Show' Debuts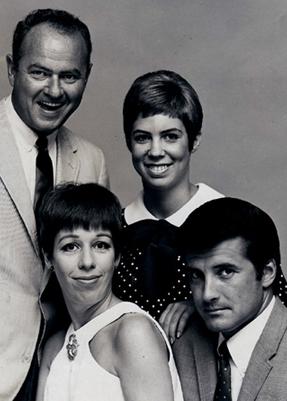 On this day in 1967, CBS introduced the variety/sketch series, The Carol Burnett Show. Burnett was already an Emmy winner, thanks to her performance on The Garry Moore Show, when the network gave Burnett her own eponymous show. The show was an immediate and long-running hit, with parodies of popular TV shows and classic movies and original sketches such as "The Family," which inspired the sitcom, Mama's Family.
The Carol Burnett Show's first-season cast included Harvey Korman, Lyle Waggoner and Vicki Lawrence. (Tim Conway, a Burnett Show favorite, made regular guest appearances in the show's early years, but didn't become a full-fledged cast member until the show's eighth season.) Each show also featured numerous guest stars from the entertainment world.
Burnett famously began the show with a question-and-answer period, during which she interacted with the studio audience. She ended each show with a signature theme song and a quick tug on her earlobe as a silent message to her grandmother.