1968: NBC Debuts 'Rowan and Martin's Laugh-In'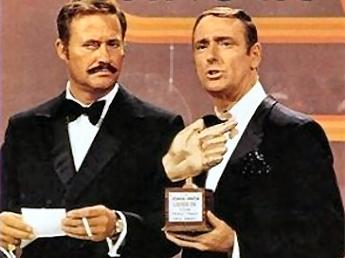 Rowan & Martin's Laugh-In, which debuted on this day in 1968, took the blackout formula from vaudeville and adapted it to television, using rapid edits, disorienting juxtapositions, and habit-forming repetitions to stampede from one punch line or sight gag to another. (Those who blame MTV for introducing "short attention span" entertainment to television forgot about the fast-paced barrages by Dan Rowan, Dick Martin, and company.)
Such predecessors as That Was the Week That Was and The Smothers Brothers Comedy Hour get credit for clearing the anti-establishment TV field that Laugh-In was to plow, and Ernie Kovacs was another clear comedic influence, but Laugh-In, in turn, gets credit for concentrating the formula later adapted, to great success, by Saturday Night Live: lots of repertory comics, an off-the-wall sensibility, and more catch phrases and repeating characters then you could shake a shtick at.
No other series in the sixties generated so many memorable faces, images, and quotable punch lines. There was Arte Johnson, as the dirty old man, falling over on his tricycle or being beaten by an old woman (Ruth Buzzi) who wielded her purse like John Belushi, on Saturday Night Live, wielded his samurai sword. And Johnson, again, as the "verrrr-ry interesting" German soldier. Lily Tomlin as Ernestine the telephone operator (a one-woman precursor of such modern horrors as voice mail), or as little Edith Ann ("… and that's the truth!"). Henry Gibson with his poetry corner. Gary Owens introducing the show "from beautiful downtown Burbank." Goldie Hawn with her giggle, bikini and body paint. There were the hosts themselves, with Rowan closing each show by telling his partner (with apologies to George Burns and Gracie Allen) to "Say goodnight, Dick" — after which Martin, of course, responded obediently, "Goodnight, Dick." The joke wall, the Flying Fickle Finger of Fate Award, and even such goofy phrases (some new, some appropriated) as "Here comes de judge!" and "Sock it to me!"
That latter phrase, when asked as an incredulous question by presidential candidate Richard Nixon in 1968, may be the series' most famous single moment, but Laugh-In also featured memorable guest cameos by the likes of John Wayne, Sammy Davis, Jr., Jimmy Stewart, and ukelele-strumming Tiny Tim.
—Excerpted from Dictionary of Teleliteracy: Television's 500 Biggest Hits, Misses and Events