1969: The Last Telecast of 'Peyton Place'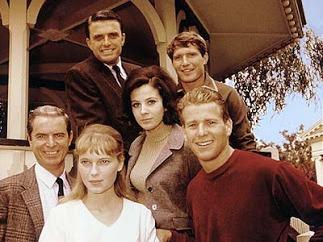 Mia Farrow shot to stardom as the virginal Allison Mackenzie in the ABC serial, Peyton Place, which ended its five season run on this day in 1969. The series was based on the Grace Metalious book and the 1957 Lana Turner movie. Allison was in love with wealthy Rodney Harrington, who was played by Ryan O'Neal — the other young performer to attain major fame as a result of this unexpectd hit.
Third-rated ABC, with lots of holes to fill its prime-time schedule, slotted Peyton Place as a twice-weekly series (a strategy it would later repeat with Batman), and struck ratings gold. Peyton Place II, as the Thursday telecast was called for terms of differentiation, landed in the season's Top 10 that first year, while Tuesday's Peyton Place I made the Top 20. The following year, ABC launched a third weekly installment, but with less success.
Nevertheless, Peyton Place, as a whole, was the first prime-time soap-opera hit in TV history — and the first prime-time soap, period, since the forties. The title became, and remains, synonymous with the concept of TV soap opera, and Peyton Place was the clear forerunner of such prime-time serialized dramas as Knots Landing and, yes, the similar-sounding Melrose Place.
No plot line on Peyton Place, though, could match Farrow's real-life romantic entanglements, even back then. When she left the show abruptly for a few weeks to go sailing with Frank Sinatra, Peyton Place placed Allison in a temporary, off-camera coma; when Farrow married Sinatra in 1966 and left the series again, never to return, the writers explained Allison's absence by saying she had "mysteriously disappeared."

—Excerpted from Dictionary of Teleliteracy: Television's 500 Biggest Hits, Misses and Events