1970: CBS Cancels 'Petticoat Junction'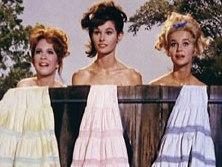 On this day in 1970, CBS cancelled the sitcom, Petticoat Junction.
The show, which ran seven seasons, starred Bea Benaderet as Kate Bradley, a widow who ran the rural Shady Rest Hotel with her daughters, Betty Jo, Bobbie Jo and Billie Jo, and her uncle, Joe (Edgar Buchanan). Petticoat Junction was the second show created by writer-turned-producer Paul Henning, who created The Beverly Hillbillies and the Petticoat spinoff, Green Acres. Over the years the trio of shows enjoyed numerous character crossovers, particularly Petticoat and Green Acres, which were both set in the vicinity of the fictional town of Hooterville.
Petticoat's ratings dropped following Benaderet's illness and death in 1968. June Lockhart joined the show for the last two seasons playing Dr. Janet Craig, a Shady Rest guest who decides to stay on at the hotel.