1970: 'Monday Night Football' Kicks Off on ABC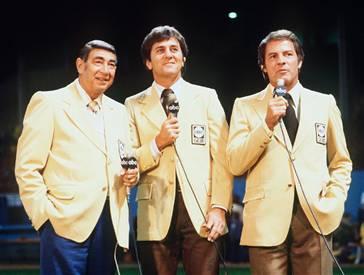 On this day in 1970, ABC introduced Monday Night Football, broadcasting a match-up between the New York Jets and the Cleveland Browns. (Cleveland won, 31-21.)
Keith Jackson, Don Meredith and Howard Cosell — a sportscaster who, at that time, was perhaps best known for covering boxing — provided play-by-play and color commentary. A year later, Jackson was replaced by Frank Gifford.
In 1970, football was in a major transition. The American Football League (AFL) and the National Football League (NFL) had just merged to form a single, two-conference league. CBS was televising National Football Conference road games, NBC was televising American Football Conference road games, and, with Monday Night Football, ABC (led by ABC Sports producer Roone Arledge) brought the game to prime time.
Monday Night Football was an immediate hit with viewers, and no wonder. The television landscape was a lot different in 1970. There was no ESPN, and nightly newscasts did not feature football footage. The only place to see highlights from the Sunday games was during halftime of Monday's game. In 2006, Monday Night Football moved to ESPN.
One of the most famous moments on Monday Night Football was, arguably, the night Howard Cosell announced the death of musician John Lennon during a game between the Miami Dolphins and the New England Patriots. The stunning announcement, on Dec. 8, 1980, began with Frank Gifford saying, "Howard, you have got to say what we know in the booth…"