1971: 'Mayberry RFD' Comes to an End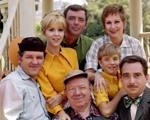 On this day in 1971, Mayberry R.F.D., a continuation of The Andy Griffith Show, ended its run on CBS.
In many ways, the series got its start during the final season of The Andy Griffith Show, when widowed farmer Sam Jones, played by Ken Berry, and his son, Mike, played by Buddy Foster, gradually become key characters on the show.
The first episode of Mayberry R.F.D. revolved around the wedding of Sheriff Andy Taylor and Helen Crump, played by Aneta Corsaut, and Griffith continued to make appearances on the show throughout its first season.
Mayberry R.F.D.co-starred several Andy Griffith regulars, including George Lindsey's Goober Pyle and, for the first two seasons, Frances Bavier's Aunt Bee.