1975: CBS Debuts 'One Day at a Time'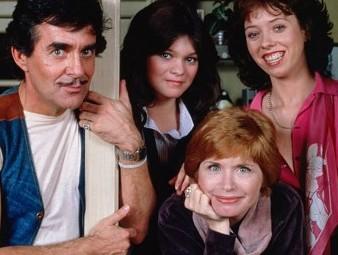 This day in 1975 marked the premiere of CBS's One Day at a Time. The series starred Bonnie Franklin as Ann Romano, a divorced Indianapolis mother of two daughters, Julie and Barbara Cooper, played by Mackenzie Phillips and Valerie Bertinelli. Frequently seen is their apartment superintendent, played by Pat Harrington, Jr.
The sitcom, developed by Norman Lear, was written by Whitney Blake — mother of actress Merideth Baxter — and Blake's third husband and writing partner, Allan Manings. The show was based on Blake's experiences raising her children as a single mother. Like many Lear series of the era, One Day at a Time mixed comedy with contemporary social issues such as teen runaways, suicide, birth control, sexual harassment, and pre-marital sex.
Off screen, the show was plagued by Mackenzie Phillips' cronic drug and alcohol use. Once, she was temporarily written out of the show in order to seek treatment for her addictions. Later she was fired, rehired, and then fired again.
By the show's ninth season, both Franklin and Bertinelli had decided to leave the show. The final episode involving the entire cast ran May 21, 1984. In it, Ann moves to London with her husband, Sam (Howard Hesseman). In the following week's episode, Harrington's Schneider receives word that his brother has died. Ultimately, he makes the decision to leave the city to care for his orphaned niece and nephew (played by Corey Feldman). The episode doubled as a pilot for a potential spin-off. The show, however, was not picked up.
In January of 2017, a remake of the show debuted on Netflix. The newest version of the program featured three generations of a Cuban-American family living in the same house.