1975: 'Welcome Back, Kotter' Begins on ABC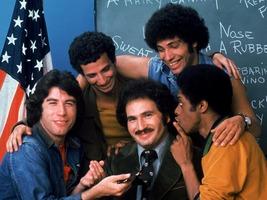 On this day in 1975, ABC introduced the situation comedy Welcome Back, Kotter, starring comedian Gabe Kaplan as Gabe Kotter, a teacher who returns to the high school he attended in Brooklyn to oversee a class of remedial misfits. The series was loosely based on Kaplan's own high school experiences.
The students in Kotter's class were collectively known as the Sweathogs, and the actors portraying the wisecracking crew became television favorites. The show's biggest breakout star was John Travolta, who played high school Casanova Vinnie Barbarino. The main quartet also included Ron Palillo as Arnold Horshack, Lawrence Hilton-Jacobs as Freddie "Boom Boom" Washington and Robert Hegyes as Juan Epstein. Marcia Strassman played Kotter's wife, Julie.
The series was responsible for numerous catchphrases of the day, including Barbarino's "Up your nose with a rubber hose!" During the show's run a range of Welcome Back, Kotter merchandise was released, including lunch boxes, comic books, board games and action figures.
By the show's third season, its popularity had begun to wane. By its fourth Travolta — who had found feature film success with Grease and Saturday Night Fever— was appearing only occasionally as a "special guest star." The show was cancelled after its fourth season.