1976: Chuck Barris Introduces 'The Gong Show'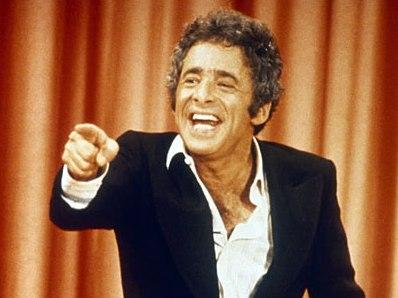 The Gong Show, which debuted today in 1976, is the worst, and therefore arguably the best, of the tasteless game shows produced by Chuck Barris. It came not to praise contestants, but to bury them, and Barris himself, as the talentless host of a largely talentless talent show, led the charge.
In retrospect, The Gong Show gave us an early peek at the type of publicity-hungry, charisma-starved "performers" who would flock to cable's public access channels (not to mention talk shows) in the eighties and nineties. Watching the show, though, was like being behind the wheel of a car and seeing an accident, or an animal carcass, on the side of the road — it was hard not to slow down and look at it, yet you felt ashamed and sickened once you did. The celebrity panelists were as devoid of enviable skills as the contestants, and the show encouraged a level of cruelty not encountered again on a regular TV series until The Morton Downey, Jr. Show.
Historically, Barris gets a smidgeon of credit for excavating and perpetuating the concept of "gonging" contestants — established on radio's Major Bowes and His Original Amateur Hour as an aural equivalent of vaudeville's hook — and for providing a national TV audience with its first glimpse of Paul Reubens as Pee-Wee Herman. But any credit Barris deserves is dwarfed by the blame of creating such a mean-spirited satirical series.

—Excerpted from Dictionary of Teleliteracy: Television's 500 Biggest Hits, Misses and Events