1976: 'Laverne & Shirley' Spins Off ABC's 'Happy Days'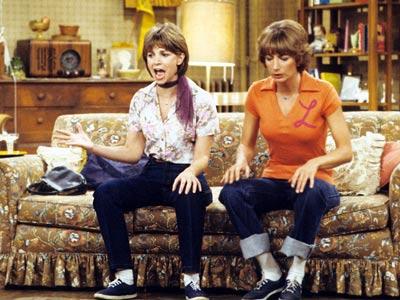 You could make the case that Penny Marshall and Cindy Williams, as blue-collar buddies Laverne and Shirley, carried on the physical-comedy tradition of I Love Lucy while simultaneously providing a female equivalent of the Ralph Kramden-Ed Norton friendship on The Honeymooners. You could make that case, but I won't, because I was too put off by the insipid scripts and school-revue acting.
But with the nostalgic sitcom Laverne & Shirley being a spinoff of Happy Days, and paired with it on the ABC schedule, Laverne & Shirley — which debuted on this day in 1976 — immediately shot to the number two slot in the prime-time ratings, right behind Happy Days; for two seasons after that, Laverne & Shirley outdid its parent program and was the most popular series on television.
—Excerpted from Dictionary of Teleliteracy: Television's 500 Biggest Hits, Misses and Events