1977: ABC Welcomed 'Three's Company'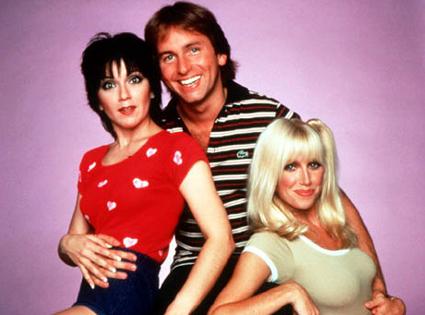 Actually, American TV has presented two series called Three's Company. The first was an otherwise forgettable music series on CBS in 1950, and the other is the unfortunately unforgettable sitcom on ABC that ran for seven years beginning today in 1977.
Based on a British sitcom called Man about the House, it starred John Ritter and Jack Tripper, a heterosexual young man pretending to be gay so he could deceive the landlord and live, platonically, in the same apartment as two beautiful (and heterosexual) women. Joyce DeWitt played one of the roomates, but the female who drove this sitcom was Suzanne Somers, the same actress who had driven the mysterious white Thunderbird in American Graffiti. In an era that saw ABC shoot to popularity with a gaggle of so-called jiggle TV shows, Somers and Three's Company were jiggling at ground zero. She stayed with the series only until 1981, but it was long enough to make Three's Company one of the hottest series on television, and to establish her character of Chrissy as one of the most vapid, demeaning women's roles in modern TV history.
Ritter took a long time to live down this series, but, like a male Sally Field, eventually did enough good work to be taken more seriously as a performer. Somers, who tried everything from other sitcoms to talk shows and exercise videos, was less fortunate — but was also less talented. That's what happens when, instead of developing as an actress, you leave it to cleavage.
—Excerpted from Dictionary of Teleliteracy: Television's 500 Biggest Hits, Misses and Events