1977: Fonzie Jumped the Shark; 'Happy Days' Didn't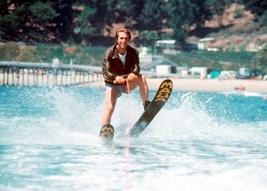 On this day in 1977, ABC aired the third episode in a three-part, season-five story arc that took the Happy Days gang to Hollywood and subjected The Fonz (Henry Winkler) to a rather memorable water-skiing contest.
Ten years later, some students at the University of Michigan were discussing whether there were identifiably precise moments when television shows went downhill. As the story goes, one person exclaimed, "It was when Fonzie jumped the shark." Shortly after, www.jumptheshark.com was born, and the three-word phrase became synonymous with something that had hit its peak and was now going downhill.
But the truth is, at the time the shark-jumping episode aired, Happy Days was flying high. The show had finished its previous season (1976-77) as the most popular series on television. One could say it slipped in its fifth year — it ended the season as the number two show on TV. For eight of its 11 seasons, Happy Days ranked in television's Top 25 shows.
In a 2010 first-person article in the Los Angeles Times, Happy Days writer Fred Fox Jr., who penned the celebrated episode, said: "When I first heard the phrase and found out what it meant, I was incredulous. Then my incredulity turned into amazement. I started thinking about the thousands of television shows that had been on the air since the medium began. And out of all of those, the Happy Days episode in which Fonzie jumps over a shark is the one to be singled out. …
"Now that so much time has passed, it's clear that "jump the shark" is no mere fad. It has become a part of the American lexicon. I often hear or read the phrase and run into people who know it. Some of them aren't even aware of the origin. It is unfathomable to me that the shark still has its bite."
Incidentally, 1977 wasn't the last time The Fonz jumped a shark, as seen in this clip from Arrested Development: