1978: 'The Hanna-Barbera Happy Hour' Begins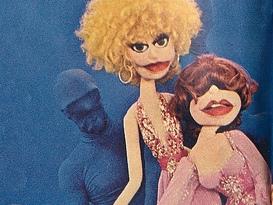 On this day in 1978, NBC debuted The Hanna-Barbera Happy Hour, a musical variety series hosted by life-size puppets, Honey and Sis, who interacted with costumed Hanna-Barbera characters such as Yogi Bear, Huckleberry Hound and Snagglepuss, as well as the show's human guests, who included seventies-era stars Leif Garrett, Abe Vigoda, Anson Williams, Gavin MacLeod, Gary Burghoff, Tony Randall, Twiggy and Little House on the Prairie stars Melissa Gilbert and Melissa Sue Anderson.
The show utilized a Japanese puppetry technique called bunraku; the puppeteers were dressed in blue bodysuits in front of a blue screen, and controlled the puppets with sticks. On camera, the puppeteers were virtually invisible. The puppets themselves were dressed by fashion designer Bob Mackie.
The series lasted just four weeks.