1980: ABC Brought 'Breaking Away' to TV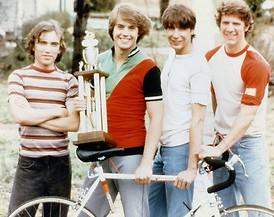 On this day in 1980, ABC debuted its adaptation of the Academy Award-winning coming-of-age film, Breaking Away.
The film — which won an Oscar in 1979 for Best Original Screenplay, and earned nominations for Best Picture, Best Original Song Score/Adaptation, Supporting Actress (Barbara Barrie) and Director (Peter Yates) — starred Dennis Quaid, Daniel Stern, Jackie Earle Haley and Dennis Christopher as working-class teens who establish a bike-racing team; Paul Dooley and Barbara Barrie co-starred.
The television series served as a prequel to the film, with Hardy Boys heartthrob Shaun Cassidy taking the lead role (played by Dennis Christopher in the film). Haley, Barrie and actor John Ashton reprised their film roles in the series.
Only eight episodes were produced before the show was cancelled.