1981: NBC's Influential 'Hill Street Blues' Debuts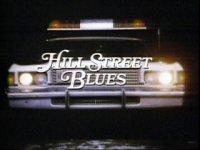 It's hard to remember, but there was a time when hand-held camerawork on a drama series was more innovative than imitative. Although St. Elsewhere edged it out as the best drama series of the eighties, Hill Street Blues — which debuted on this day in 1981 — stands alone as the most influential series of its decade.
Creators Steven Bochco and Michael Kozoll based the look and feel of the show on The Police Tapes, a striking documentary by Alan and Susan Raymond, which profiled and tagged along with cops from the South Bronx. (Eventually, the series COPS would cop a similar attitude.) The documentary feel of the precredits sequence of Hill Street, with the jerky camerawork and Altmanesque overlapping dialogue, made the show stand out immediately, and favorably, from other offerings at the time it premiered. That opening sequence also gave Hill Street its most lasting and quotable moment: the late Michael Conrad, as sergeant Phil Esterhaus, warning his troops, "Let's be careful out there!" Only the theme song by Mike Post, with its quiet piano opening, is as resonant today.
The importance of Hill Street hardly can be overstated, yet this much-admired, often-imitated cop show didn't emerge from a vacuum. Its tricky mixture of comedy and drama had been established in Lou Grant, the messy and unpredictable resolutions to dramatic situations was an outgrowth of Bruce Paltrow's The White Shadow (for which Bochco wrote) and Bochco's own Paris, and the seeds of what became Hill Street were sown rather directly in an unsold 1978 pilot project, Operating Room, written by Paltrow and Bochco and featuring future Hill Street players Barbara Bosson and Barbara Babcock.
The latter's portrayal of the unabashedly sensual Grace Gardner was a highlight of Hill Street, as were scenes of Daniel J. Travanti's Captail Frank Furillo showing up unexpectedly at an Alcoholics Anonymous meeting and inside a Catholic confessional, and Dennis Franz's portrayals of two very different black-sheep cops, and strong weekly work by so many regulars that they may as well be praised as a whole, rather than by name. (To go without praising Veronica Hamel as Joyce Davenport, Furillo's eventual wife, would be an unforgivable oversight.)
The formula of lacing and overlapping plot lines throughout several episodes, so that the major stories and smaller subplots kept propelling the story forward, made Hill Street Blues a novel TV show in more ways than one. The precinct house was burned down in the finale, but the flames from Hill Street will continue to flicker for a long, long time. It set a standard to which all new ensemble drama series continue to aspire, and which only a few have managed to equate or surpass.
—Excerpted from Dictionary of Teleliteracy: Television's 500 Biggest Hits, Misses and Events