1983: Gerald and Betty Ford Appear on 'Dynasty'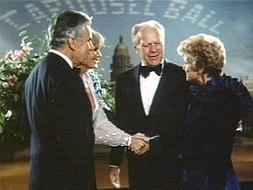 On this day in 1983, former president Gerald R. Ford and his wife, Betty Ford, appeared as themselves on an episode of ABC's soapy prime-time drama, Dynasty.
The show's producers arranged to film the show's fictional characters at the real-life Carousel Ball, an annual Denver charity event known for attracting the rich and famous (thanks to its originators, Marvin and Barbara Davis).
During production, Dynasty producer Esther Shapiro talked the Fords into greeting two of Dynasty's central characters, Blake and Krystle Carrington (John Forsythe and Linda Evans).
"Blake, it's wonderful to see you," was the former president's line.
Former secretary of state Henry Kissinger also had a cameo on the episode, and was shown interacting with Joan Collins' character, Alexis Colby.