1983: 'The Thorn Birds' Debuts on ABC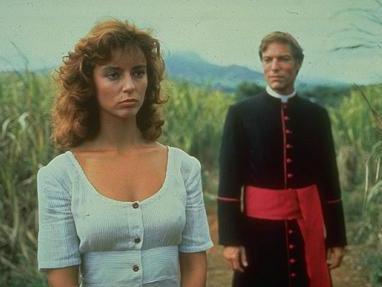 Of the five higest-rated miniseries in TV history, Richard Chamberlain is the only actor to have starred in two: 1980's Shogun, and this 1983 romantic drama, second only to Roots on the all-time list.
Based on Colleen McCullough's sprawling novel, The Thorn Birds — which premiered on this day in 1983 — is less ambitious and satisfying than Shogun, but as major melodramas go, this ten-hour ABC drama contains some strong performances, especially by Chamberlain as Ralph de Bricassart (the priest torn between his religious vows and his life-long love for Meggie Cleary), by Barbara Stanwyck as the matriarch who tries to seduce him, and by supporting players Richard Kiley, Piper Laurie, Christopher Plummer, and, as young Meggie, Sydney Penny. (The "elder" Meggie, played by Rachel Ward, became a minor star as a result of her costarring role here, but barely earned it.) The Thorn Birds also boasted some strong set pieces, such as the sheepshearing race that, in more than one sense, qualified as shear entertainment.
In addition to the sheepshearing, the miniseries did a lot of leapfrogging, jumping from time frame to time frame so quickly that one unintentionally funny superimposed caption read, "Nineteen years later." That came in handy, though, when CBS began production in 1995 on a miniseries sequel dramatizing that neglected portion of original story. Called The Thorn Birds: The Missing Years, it once again starred Chamberlain as Father Ralph, but this time gave the role of the adult Meggie to L.A. Law alumnus Amanda Donohoe. Ironically, Sydney Penny, the young actress who had portrayed the preteen Meggie in 1983, was by that time an adult actress, playing Julia on All My Children, and old enough to play opposite Chamberlain in the sequel. She was not, however, offered the part, which must have been a real Thorn in her side.
—Excerpted from Dictionary of Teleliteracy: Television's 500 Biggest Hits, Misses and Events