1984: NBC Airs the TV Movie 'The Burning Bed'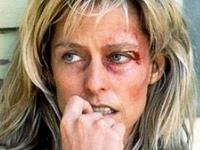 On this day in 1984, NBC aired the TV movie The Burning Bed, based on a true story about battered wife, Francine Hughes, played by Farrah Fawcett. After years of severe abuse at the hands of her husband, and being raped by him one night, Francine set fire to the bed once he was asleep.
The movie recounted the violent relationship from its beginning to the night Francine attempted to save her life and those of her children. Fawcett won critical and public acclaim for her work, revealing a depth to her acting ability she'd never shown before. The movie was nominated for eight Emmys, including one for Fawcett (Outstanding Lead Actress in a Limited Series or a Special) and also won the Television Critics Award for Outstanding Achievement in Specials.