1988: NBC Presents the Telefilm 'Inherit the Wind'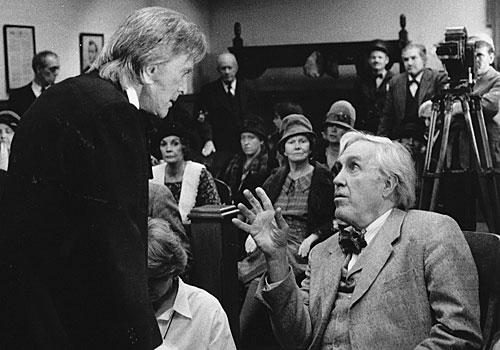 On this day in 1988, NBC presented a telemovie based on the 1960 film, Inherit the Wind.
Inherit the Wind was originally conceived as a 1955 stage play in which playwrights Jerome Lawrence and Robert Edwin Lee dramatized the 1925 Scopes Monkey Trial to draw parallels between the famous legal battle that tried a Tennessee teacher for violating a law that forbade teaching the theory of evolution and the anti-communist McCarthy trials of the 1950s.
The 1960 film adaptation, directed by Stanley Kramer, starred Spencer Tracy as Henry Drummond, a character patterned after famed defense attorney Clarence Darrow, Fredric March as prosecutor Matthew Harrison Brady, a character based on attorney William Jennings Bryan, and Gene Kelly as E.K. Hornbeck, a character inspired by journalist H.L. Mencken.
NBC's remake starred Jason Robards as Drummond, Kirk Douglas as Brady and Darren McGavin as Hornbeck. Robards won a lead actor Emmy for the role.
Other TV adaptations include a 1965 version starring Melvyn Douglas and Ed Begley and a 1999 remake with Jack Lemmon, George C. Scott and Beau Bridges.