1990: 'In Living Color' Launches on Fox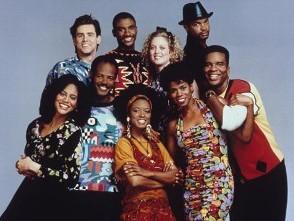 When at its outrageous best, In Living Color, which debuted on this day in 1990, earned "two snaps up" — one of the many quotable remarks from its flagrantly gay "Men on…" critics Blaine and Antoine, played by Damon Wayans and David Alan Grier (as, basically, the modern counterparts of Ernie Kovacs's Percy Dovetonsils).
No sketch-variety series since Saturday Night Live and Second City TV, and no minority-dominated series ever, generated as many breakout characters and sketches as this refreshingly irreverent Keenen Ivroy Wayans series.
No other show on TV would have the audacity, much less the talent, to imitate Mike Tyson, Sugar Ray Leonard and Muhammad Ali (played by Keenen Ivory Wayans, Tommy Davidson and Grier, respectively) in a skit called "Three Champs and a Baby," or to lampoon Star Trek characters and a controversial Islamic leader in a sketch titled "The Wrath of Farrakhan."
In Living Color in its original incarnation, also gave us, among other things, Damon Wayans as sour old Homey the Clown ("Homey don't play that"), Kim Wayans as a frighteningly close approximation of Grace Jones, and the hip-hop Fly Girls, chreographed very memorably indeed by Rosie Perez.
Its most famous alumnus, though, was Jim Carrey, who had begun the series as the token white guy and ended it, following the departure of the Wayans clan in 1992 and 1993, as the show's star. Within two years, Carrey would be one of Hollywood's biggest stars as well, thanks to a string of hit comedy films.

—Excerpted from Dictionary of Teleliteracy: Television's 500 Biggest Hits, Misses and Events