1990: 'Newhart' Ends After Eight Seasons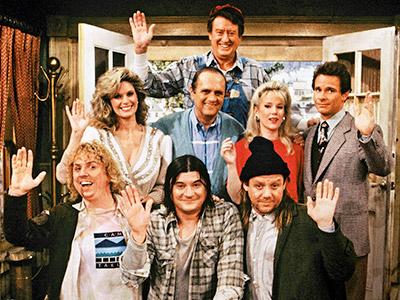 The premise of
Newhart
— which ended its run on this day in 1990 — placed Bob Newhart as the manager of a rustic Vermont inn — kind of an Americanized
Fawlty Towers
, but with a major distinction. In
Fawlty Towers
, the acerbic attitude of John Cleese's Basil Fawlty drove the plots and the show; in
Newhart
, the star's Dick Loudon character was neither sour nor acerbic, but merely ineffective and flustered.
Even more so than on The Bob Newhart Show, Newhart's comic persona was reactive, not active. It was not what his character did that generated the laughs. Instead it was how he reacted to the actions of those around him — a group that included Tom Poston's daydreaming handyman George, Julia Duffy's pampered maid Stephanie, and that surrealistic trio of William Sanderson's Larry, who spoke, and his equally backwards, backwoods brothers Darryl (Tony Papenfuss) and Darryl (John Voldstad), who did not.
Mary Fran played Loudon's wife, but her eight years with the show were overshadowed by the last scene in the final episode, in which Suzanne Pleshette, who played Newhart's wife on The Bob Newhart Show, made an unannounced appearance. After being hit on the head with a golf ball, Newhart's Dick Loudon passed out, but it was Newhart's Bob Hartley who awakened — in his old bed from The Bob Newhart Show, and next to his "former" wife, Pleshette's Emily. Bob then described to her the premise and characters of Newhart, effectively dismissing the entire run of that series as a bad dream.
It was an ending that referred to both the dream season of Dallas and the daydream ending of St. Elsewhere, and provided viewers with one of the best, and most memorable, series finales in TV history.

—Excerpted from Dictionary of Teleliteracy: Television's 500 Biggest Hits, Misses and Events