1990: 'Wings' Takes Off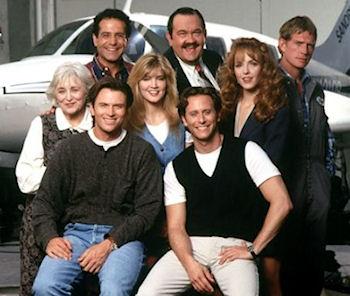 On this day in 1990, NBC launched the sitcom, Wings.
The series starred Tim Daly and Steven Weber as two brothers who operate a small Nantucket Island airline. The show's supporting cast included Crystal Bernard, David Schramm, and Rebecca Schull — who appeared on the series for all of its eight seasons — as well as Thomas Haden Church, Tony Shalhoub, Farrah Forke and Amy Yasbeck.
Wings was created by former Cheers writers/producers David Angell, Peter Casey and David Lee. The trio went on to create the highly successful Kelsey Grammer series, Frasier. (Sadly, Angell, along with his wife, was a passenger on American Airlines Flight 11, the first plane to hit the World Trade Center, on Sept. 11, 2001.)