1991: 'Hi, Honey, I'm Home' Premieres on ABC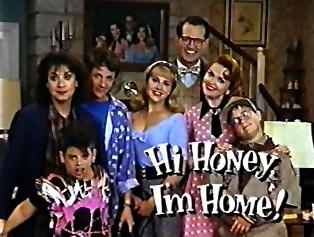 This day in 1991 marked the debut of the sitcom Hi Honey, I'm Home! The short-lived sitcom — which was taped in front of a live studio audience at Orlando's Universal Studios — had a novel twist: In one of the earliest examples of broadcast-cable synergy, the show aired in prime time on ABC, then two nights later, repeated on Nickelodeon's Nick at Nite.
In Hi Honey, I'm Home!, 1950s sitcom family the Nielsens find themselves — gasp! — cancelled and relocated to the "real world," courtesy of the "Sitcom Relocation Program." Their typically '90s neighbors were the Duffs, a single mom with two boys.
The show starred Charlotte Booker and Stephen C. Bradbury as Honey and Lloyd Nielsen. Julie Benz (who would go on to star on Buffy, the Vampire Slayer and Dexter) was the Nielsen's teen daughter, Babs; Danny Gura was young son, Chucky. Each week the show was visited by a classic sitcom star, portraying their former sitcom character. Guests included Gale Gordon, Barbara Billingsley, Audrey Meadows, Joyce Randolph, Jim Nabors, Al Lewis, Ann B, Davis, Eva Gabor, Ken Osmond, Georgia Engel, Rose Marie and Dwayne Hickman.
ABC abandoned the series after six episodes; seven more were produced exclusively for Nick at Nite.