1991: The End of 'thirtysomething'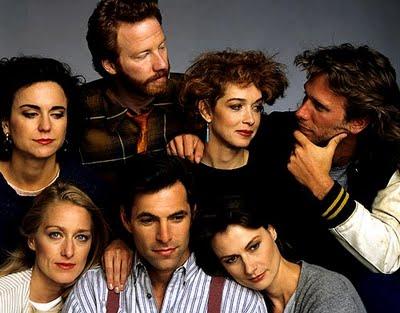 When thirtysomething — which ended its four-season run today in 1991 — first came out, I hated it. The characters all seemed so self-absorbed, so utterly selfish, that it was impossible to connect with any of them. Ken Olin and Mel Harris, as Michael and Hope, were too nice. Timothy Busfield's Elliot was too irresponsible, Peter Horton's Gary was too flaky, and so on; it was like watching the days of whine and neuroses. The high caliber of the writing, directing, and acting kept luring me back, but every time I revisited, a line of dialogue, or a particularly smarmy fantasy sequence, would spoil the spell, and my mood.
But thirtysomething matured, as did I, and once David Clennon joined the cast as tyrannical ad-agency executive Miles Drentell, thirtysomething found its best and most dramatic dynamic. Over the course of the series, three episodes stand out above all others. There's "The Mike Van Dyke Show," in which Michael confronts his ambivalent religious attitudes while imagining himself in a Dick Van Dyke Show-style sitcom universe, and "Second Look," the episode in which Patricia Wettig's Nancy survives her hospital visit but Gary doesn't; and most memorably, "A Stop at Willoughby," whose title echoes an episode of The Twilight Zone and, in similar fashion, charts the nervous breakdown of its protagonist.
In this case, it's Michael himself who was emotionally shattered — after his boss, Miles, refused to help an actor fired from the firm's ad campaign by their client, who resented the actor's attendance at a rally protesting American involvement in the Persian Gulf. The speech Miles gives in his defense to Michael, written by series producer Joseph Dougherty, is unforgettably potent — and given its appearance on prime-time network TV, surprisingly daring. "He expressed an unpopular opinion," the ad-company executive says of the dismissed actor. "No one wants to be unpopular. That's why we're here. That's the dance of advertising. We help people become popular. … we calm and reassure. We embrace people with the message that we're all in it together, that our leaders are infallable, and that there is nothing, absolutely nothing wrong. This is what we do. It's what we've always done."
Miles also tells Michael, "Do you know what I love about this country? It's amazingly short memory. We're a nation of amnesiacs. We forget everything — where we came from, what we did to get here. History is last week's People magazine, Michael." But with speeches like that to remember, thirtysomething just might stick. The series' final episode, broadcast just two weeks after "A Stop at Willoughby," was a half-hearted, inconclusive, confused mess, but thirtysomething quickly found a home in reruns on Lifetime cable, and series co-creators Marshall Merskovitz and Edward Zqick lost no time in jumping to feature films. …
The legacy of thirtysomething, in addition to its wispy theme song, is its intentional and successful targeting and examination of the Baby Boomer generation. Its success paved the way, in a way, for Seinfeld and Mad About You — and how different, really, are the unshakeable friendships of thirtysomething from the similarly unshakeable twentysomething friendships shown on Friends?

—Excerpted from Dictionary of Teleliteracy: Television's 500 Biggest Hits, Misses and Events