1992: CBS Debuts '2000 Malibu Road'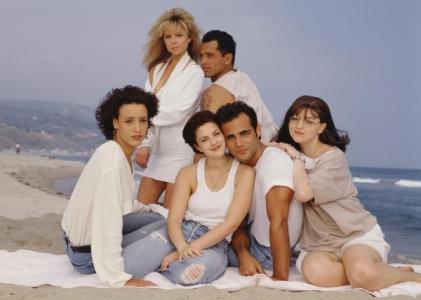 On this day in 1992, CBS introduced the summer drama 2000 Malibu Road. As far as TV shows go, Malibu Road had an exceptional pedigree. The series was created and written by the co-creator of L.A. Law, Louise Fisher. It was directed by Joel Schumacher, director of feature films such as Dying Young, St. Elmo's Fire, Batman Returns and Trespass, and co-produced by TV icon Aaron Spelling and his producing partner E. Duke Vincent.
Its cast also featured a few well-known names. Former Knots Landing star Lisa Hartman (now Hartman-Black) returned to her prime-time soap roots as Jade, an ex-call girl who opens her palatial Malibu home to a mix of roommates: Former Flashdance star Jennifer Beals as Perry, a criminal attorney; Drew Barrymore — in her first television series — as Lindsay, an aspiring actress; and General Hospital's Tuesday Knight as Lindsay's scheming sister, Joy. Actors Brian Bloom and Michael T. Weiss also starred.
The series got off to a strong start and was supposedly slated for renewal, but was abruptly canceled after the sixth episode, leaving several storylines in limbo. In his 2000 book Aaron Spelling: A Prime-Time Life, Spelling says the show fizzled because of disagreements over license fees. However, in a syndicated interview published following the show's demise, star Hartman-Black speculated that Spelling was "put between a rock and a hard place" because CBS had scheduled 2000 Malibu Road opposite Melrose Place, which put Spelling in the uncomfortable position of competing against himself.