1992: PBS Introduces 'Barney & Friends'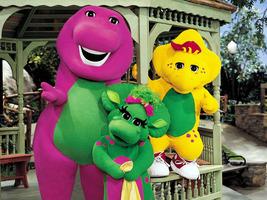 On this day in 1992, PBS introduced Barney & Friends, a series based on a line of home videos created by a Texas-based mom.
The series revolved around a purple and green Tyrannosaurus rex who transforms from a plush doll to a live creature to lead children through themed episodes filled with simplistic songs. Barney & Friends also inspired traveling stage shows, and even a 1998 feature film, Barney's Great Adventure. The show's sing-songy signature song, "I Love You," captivated kids and drove their parents crazy.
Two of the show's best-known cast members were Demi Lovato (as Angela), star of Disney Channel's Camp Rock and Sonny with a Chance, and Wizards of Waverly Place star Selena Gomez (as Gianna), both of whom appear in the episode below: