1994: 'The Arsenio Hall Show' Leaves Late Night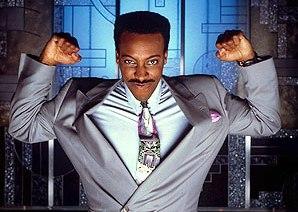 This day in 1994 marked the last telecast of the syndicated late-night talker, The Arsenio Hall Show. Launched January 3, 1989, the program saw early success by targeting a young, multi-ethnic audience — those commonly referred to as the "MTV Generation."
Best known as a stand-up comedian, Arsenio Hall had also served as a guest host for Fox's The Late Show, following the dismissal of its host, Joan Rivers, and had been well-received in the late-night arena.
The Arsenio Hall Show debuted nearly two years later, going head-to-head with Johnny Carson's Tonight Show. The show managed to carve out decent ratings against the King of Late Night, despite its syndication handicap. Over time, though, growing competition weakened the show, as the CBS and Fox affiliates that carried Arsenio dropped the show in favor of network programming. Arsenio survived the launch of The Pat Sajak Show on CBS and The Chevy Chase Show on Fox, but when David Letterman left NBC's Late Night to launch The Late Show on CBS, Arsenio found himself on the losing end of the equation. A new talker on MTV, The Jon Stewart Show, poached even more viewers.

During its run, The Arsenio Hall Show earned an important footnote in American politics: On June, 3, 1992, Arkansas governor Bill Clinton appeared on Arsenio the day after securing the Democratic party nomination. Wearing Blues Brothers-style sunglasses, the newly-minted presidential candidate performed Billie Holiday's "God Bless the Child" and Elvis Presley's "Heartbreak Hotel" on his tenor sax.
Clinton's appearance sent shockwaves through the political community. Accustomed to seeing politicians appear on Sunday morning political talk shows and evening news programs, many felt Clinton's unconventional appearance was unbefitting a presidential candidate. Coincidence or not, immediately after his late-night appearance, Clinton — who had been lagging in the polls — jumped ahead of Republican candidate and incumbent George H. W. Bush. Five months after his appearance on Arsenio Hall, Clinton won the presidency.
Arsenio returned to the talk show game in 2013 with another try at The Arsenio Hall Show in syndication. The show lasted only one season.