1996: Bonnie Hunt's CBS Sitcom Ends its Run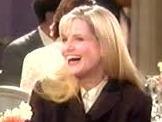 This day in 1996 marked the end of Bonnie, the second-chance CBS sitcom starring Second City veteran Bonnie Hunt. The series, in which Hunt played a Chicago TV reporter, launched in 1995 with the title The Bonnie Hunt Show. The first incarnation lasted just a few episodes before being pulled from the fall schedule, and returning the following spring with a new title.
The series reunited Hunt and several co-stars — Holly Wortell, Tom Virtue and Don Lake — from her previous CBS sitcom, 1993's The Building. In 2002, Hunt, Wortell and another Bonnie co-star, Mark Derwin, returned to prime-time in the ABC series, Life with Bonnie (in which Hunt played a TV talk-show host much like the 2008 syndicated talker she'd later front called — you guessed it — The Bonnie Hunt Show).