1996: Comedy Central Introduces 'The Daily Show'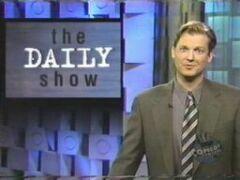 On this day in 1996, Comedy Central introduced The Daily Show, with host Craig Kilborn. Kilborn, a former co-anchor of ESPN's SportsCenter, opened the half-hour satirical news show with a comedic monologue. The balance of the show featured on-location and in-studio reports from the show's correspondents, which included the show's co-creator Lizz Winstead, Brian Unger, A. Whitney Brown, Beth Littleford, Mo Rocca, and Stephen Colbert.
In December 1998, Kilborn left The Daily Show to replace Tom Snyder as host of CBS's The Late, Late Show. His replacement, Jon Stewart, ushered in the satirical look at news and politics, and stayed with the show until August 6, 2015. The current host, South African comedian and political commentator, Trevor Noah, took the reins from Stewart; his contract has been renewed through September of 2022.