1996: The WB Introduces the Family Drama '7th Heaven'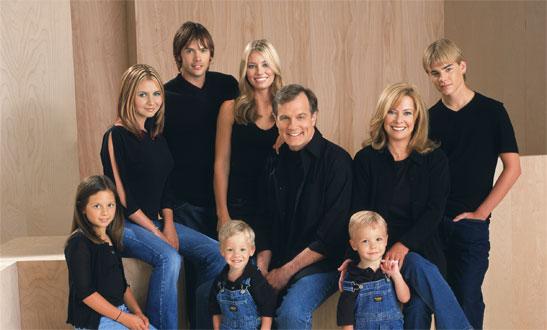 On this day in 1996, fledgling network The WB expanded its limited programming schedule with the debut of the family drama 7th Heaven.
The series starred Stephen Collins as Eric Camden, a California minister, and Catherine Hicks as his wife, Annie. Many of the show's storylines revolved around the life experiences of the Camden family children, portrayed by Barry Watson, Jessica Biel, Beverley Mitchell, David Gallagher and Mackenzie Rosman. (Twins Lorenzo and Nikolas Brino were added to the cast in the show's third season.) While the series regularly tackled topics such as alcoholism and teen pregnancy, the subjects were approached in a way that underscored the show's commitment to Christian values.
In 2000, the show's producers experienced a real-life "family" drama when castmember Biel, then 17, famously posed topless for Gear magazine to counter the "goody goody" image of her 7th Heaven character. Her off-camera rebellion was incorporated into her on-screen character, and Biel was subsequently written off the show. She did return for occasional story arcs and special guest appearances.
The WB announced the show's cancellation in 2005, and, after 10 seasons, a finale was filmed. In early 2006, however, the fledgling network The CW approached cast members about continuing the show for another season.
7th Heaven — which ran a total of 11 seasons — was The WB's longest-running series, and earned a spot in television history as TV's longest-running family drama, surpassing both The Waltons and Little House on the Prairie, both of which aired nine seasons. It was also producer Aaron Spelling's longest-running series.