1996: Viewers See Stars at the Atlanta Olympics' Closing Ceremony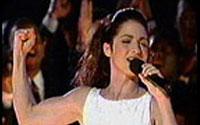 On this day in 1996, Olympians and spectators gathered in the Centennial Olympic Stadium for the close of the "Centennial Olympics" in Atlanta, Georgia — a celebration filled with a range of popular American music.
The closing ceremony, as with the opening ceremony, was produced by celebrated television director/producer Don Mischer, known for overseeing live coverage of the Oscars, Emmys, and Tonys, Super Bowl halftime shows and other high-profile events.
The ceremony opened with the Atlanta Olympic Band, led by famed composer/conductor John Williams, performing his original work, "Summon the Heroes." Boyz II Men sang "The Star-Spangled Banner."
During the ceremony, Gloria Estefan sang "Reach," the official theme song of the 1996 Summer Games. Stevie Wonder performed a rendition of John Lennon's "Imagine." And Gerogia native Trisha Yearwood sang an a cappella version of the song "The Flame" just before the Olympic flame was extinguished.
The ceremony ended with an all-star musical tribute. Performers included Estefan, Wonder, Yearwood, Sheila E., Faith Hill, Bon Jovi, B.B. King, Wynton Marsalis, Little Richard, the Pointer Sisters, Tito Puente, Buckwheat Zydeco, and Michael Jackson.