1997: 'Arsenio,' the Sitcom, Fizzles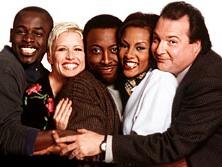 On this day in 1997, Arsenio, the sitcom, aired its sixth and final episode.
The ABC series, which starred Arsenio Hall as Michael Atwood, a newlywed sports cable channel announcer, marked the comedian's return to television following the demise of his late-night syndicated talk show. The series co-starred Vivica Fox as Atwood's new wife, and Kevin Dunn and Shawnee Smith as their respective best friends.