1997: Showtime Revisits '12 Angry Men'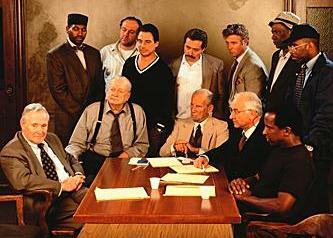 On this day in 1997, Showtime debuted a remake of the legal drama 12 Angry Men.
The made-for-cable movie was adapted from the 1954 teleplay by Reginald Rose, which was performed live on CBS's Westinghouse Studio One. The drama was then recrafted as a stage production in 1955, and in 1957, spun into the classic feature film starring Henry Fonda, Jack Warden and E.G. Marshall. It was directed by Sidney Lumet.
Showtime's adaptation was directed by William Friedkin, best known for The French Connection, The Exorcist and To Live and Die in L.A. Jurors 1 through 12 were portrayed by Courtney B. Vance; Ossie Davis; George C. Scott, Armin Mueller-Stahl, Dorian Harewood, James Gandolfini, Tony Danza, Jack Lemmon, Hume Cronyn, Mykelti Williamson, Edward James Olmos and William Petersen. (Lemmon portrayed the key role of Juror 8, the role immortalized by Fonda.)
The judge was portrayed by Mary McConnell, now starring in TNT's Major Crimes.