1998: NBC Launches 'LateLine'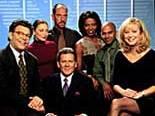 On this day in 1998, NBC introduced the sitcom, LateLine, starring comedian-turned-senator Al Franken.
The series was a spoof of ABC's late-night news program, Nightline. Former Falcon Crest star Robert Foxworth played the show's anchor, Franken — who also created and wrote for the show — played LateLine's chief correspondent; Miguel Ferrer portrayed the fictional news show's executive producer.
During its short run, the show featured a number of guest stars, actual Washington figures, actors and television personalities — including Jocelyn Elders, Ralph Nader, Pat Buchanan, Michael Dukakis, Jerry Falwell, Barney Frank, Richard Gephardt, Robert Reich, John Kerry, Pat Schroeder, Jimmy Breslin, Joan Lunden, Regis Philbin, Kathie Lee Gifford, Dominick Dunne, Arianna Huffington, Conan O'Brien, Andy Richter, Martin Sheen, Rob Reiner and Vanessa Williams — all playing themselves.
In one episode, Watergate operative G. Gordon Liddy helped Franken's character, Al Freundlich, break into Princeton, New Jersey's Educational Testing Service, administrators of the SAT, to see if Freundlich's daughter's SAT scores were deliberately lowered in retaliation for a LateLine program about test score accuracies.
The series was pulled off the air partway through its second season. A few of the unaired episodes were seen on cable's Showtime.