1999: The End of 'Melrose Place'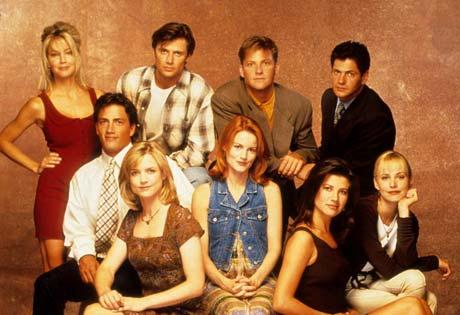 What Peyton Place was to the sixties, Melrose Place — which ended its seven-season run on this day in 1999 — was to the nineties: a prime-time soap filled with enough romances and rivalries to make it a happy addiction, or guilty pleasure, for tens of millions of loyal viewers.
Created by Darren Star, Melrose Place was spun off from Beverly Hills, 90210, but given a slightly older tone — twentysomething as opposed to teensomething. The first season, though, was a total tossaway, entertaining only for the laughably inconsistent Southern accent of Amy Locane as Sandy (there one week, gone the next).
Sandy was benched for the second season, and other players were added — including Heather Locklear as Amanda, who came in and energized Melrose Place just as completely as Joan Collins had on Dynasty, another prime-time soap on which Locklear had been featured. (Both of those shows also had as their co-executive producer Aaron Spelling, whose TV dynasty was carried into the nineties by 90210 and this Melrose spinoff.)
—Excerpted from Dictionary of Teleliteracy: Television's 500 Biggest Hits, Misses and Events