2000: Fox Debuts 'Boston Public'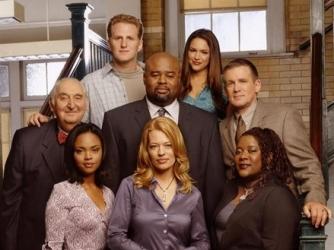 On this day in 2000, Fox launched the David E. Kelley drama, Boston Public. The series was scheduled as a lead-in for Kelley's celebrated series, Ally McBeal.
Boston Public was set in a fictional Massachusetts high school, and focused on the lives of the school's students, teachers and administration. The ensemble cast included Chi McBride, Anthony Heald, Jessalyn Gilsig, Loretta Devine, Sharon Leal, Rashida Jones, Fyvush Finkel, Michael Rapaport and Jeri Ryan.
The critically-acclaimed series, which was awarded a Peabody in 2002, presented strong, issue-oriented storylines, an approach Kelley would use to greater effect in the ABC series, Boston Legal.

The show saw declining ratings as it progressed, and was abruptly cancelled in its fourth season.