2000: 'Seinfeld' Alum Michael Richards Gets His Own Show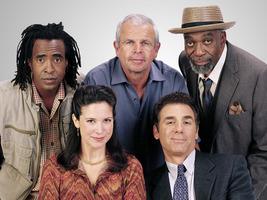 On this day in 2000, NBC debuted The Michael Richards Show, the first major post-Seinfeld project for the show's celebrated Kramer. Richards played a bumbling private eye whose quirky methods luckily didn't hinder his success in solving cases.
Despite a seasoned cast that included William Devane, Tim Meadows and Bill Cobbs, the series only lasted nine episodes.
The failure of The Michael Richards Show was the beginning of the so-called "Seinfeld Curse," an assertion that the Seinfeld stars would would be unable to attain further television success as series leads. The "curse" buzz was further reinforced by the quick cancellations of Jason Alexander's 2001 sitcom, Bob Patterson, and Julia Louis-Dreyfus' 2002 comedy, Watching Ellie.
Louis-Dreyfus fared much better with her second show, 2005's The New Adventures of Old Christine. Upon winning an Outstanding Lead Emmy for her role in the series, she said: "I'm not somebody who really believes in curses, but curse this, baby!" She has since won multiple times for her current HBO series Veep.
Richards has yet to helm another sitcom. Alexander starred in the lukewarm sitcom Listen Up!, a series loosely based on sportswriter and talk show host Tony Kornheiser. Jerry Seinfeld has yet to attempt another television sitcom. Currently he hosts the popular series Comedians in Cars Getting Coffee.